Blackie Collins Model 102 Switchblade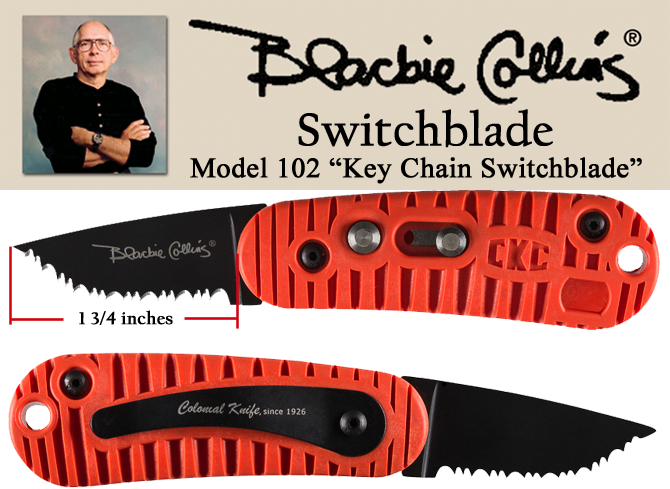 "Knife World Magazine, June 2013 , Staff Writer"
American Knife, 100%, a collaborative between Colonial Knife; Cutlery Hall-of-Famer Walter "Blackie" Collins and Adam Smith of the Rhode Island School of Design and the science lab at Brown University. The Concept- to create a uniquely designed, practical in every aspect, comfortable to hold, formfitting; utilitarian; work of art that is also a switchblade. Hence, the Ameba™ automatic knife with a high cool factor. The Ameba™ key chain automatic has a serrated blade, the reason being that such a compact blade tends to get a lot of abuse and neglect. Also comes with a pocket clip, or use the ball chain to carry on a key ring-always in reach for both women and men. The handle is nearly indestructible; the synthetic material is used in the manufacturing of hard hats, power tool casings and snow board bindings. Blade material is a premium ATS-34 stainless steel. Made in Warwick, Rhode Island, U.S.A. and comes with a lifetime warranty.
Handle Design: Adam Smith, Rhode Island School of design
Blade Design: Walter "Blackie" Collins.
Prototype: Brown University
Lifetime Warranty
$69.99
Specifications

Blade material: ATS 34
Blade length: 1 3/4"
Weight: 1 0z.
Blade locks open or closed
Pocket clip and ball chain provided
This item is only available directly from Colonial Kinfe™
Not available through Pay Pal. To order, call our toll free customer order line at
866-421-6500 or use our Order Form to e-mail or fax an order.
Visa, MasterCard and American Express accepted.