Blackie Collins Model 103 Switchblade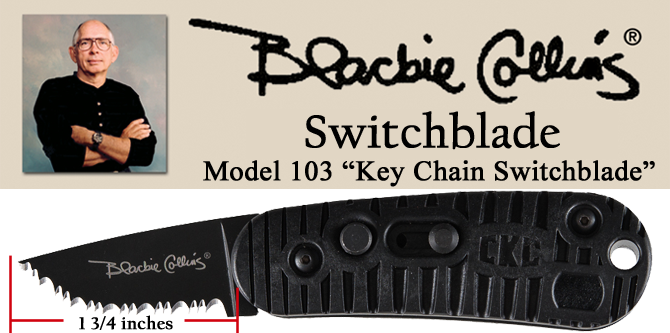 "Knife World Magazine, June 2013 , Staff Writer"
American Knife, 100%, a collaborative between Colonial Knife; Cutlery Hall-of-Famer Walter "Blackie" Collins and Adam Smith of the Rhode Island School of Design and the science lab at Brown University. The Concept- to create a uniquely designed, practical in every aspect, comfortable to hold, formfitting; utilitarian; work of art that is also a switchblade. Hence, the Ameba™ automatic knife with a high cool factor. The Ameba™ key chain automatic has a serrated blade, the reason being that such a compact blade tends to get a lot of abuse and neglect. Also comes with a pocket clip, or use the ball chain to carry on a key ring-always in reach for both women and men. The handle is nearly indestructible; the synthetic material is used in the manufacturing of hard hats, power tool casings and snow board bindings. Blade material is a premium ATS-34 stainless steel. Made in Warwick, Rhode Island, U.S.A. and comes with a lifetime warranty.
Handle Design: Adam Smith, Rhode Island School of design
Blade Design: Walter "Blackie" Collins.
Prototype: Brown University
Lifetime Warranty
$69.99
Available colors: Black, Day Glow Rescue Orange
Specifications

Blade material: ATS 34.
Blade length: 1 3/4".
Weight: less than 1 0z.
Glass filled nylon handle.
Safety lock, prevents accidental opening or closing.
Mates with M.O.L.L.E. vest.
Lanyard hole accommodates 550 Paracord.
Oxygen tank key in handle for use with rescue personnel and first responders.
Pocket clip and ball chain included
This item is only available directly from Colonial Kinfe™
Not available through Pay Pal. To order, call our toll free customer order line at
866-421-6500 or use our Order Form to e-mail or fax an order.
Visa, MasterCard and American Express accepted.