Blackie Collins Model 7001 Quick Flick Assisted Opening Knife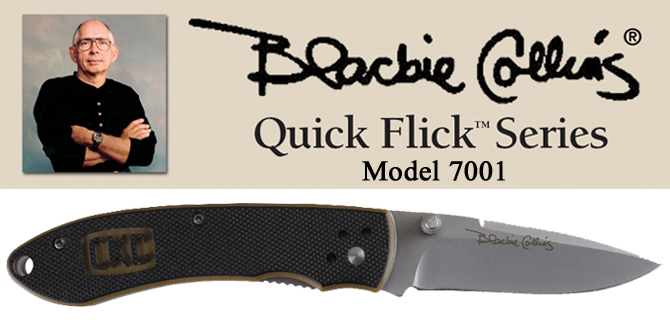 The smallest of the Quick Flick™ series of assisted opening knives also known as the "Tucks" model (named after an area of New Hampshire's Mount Washington, the highest peak in the Northeastern U.S. and very well known among climbers and backpackers) tips the scale at 2.5 ounces, and its 2-5/8 inch blade and 3.75 inch handle make for very light and compact carry. It has no serrations nor a guard tab for opening, but the thumb stud is still there and the hollow-ground matte gray blade does have three quarters of an inch of jimping on its spine above 2 -3/8 inch cutting edge, blade Rockwell, 58-60 C. This model has G10 scales, black-checkered outside layer over an olive drab inside layer next to the steel liners. Like the other model in the Quick Flick™ series, the 7001 can be disassembled, its liner lock engages positively, and it includes a lanyard hole. The brushed stainless clip comes set for tip-up left side carry and can be swapped to right-side tip-down carry. The scales and liner edges are also well rounded, making this a comfortable little knife in the pocket.

By Denis Prisbrey, field tester for Tactical Knives magazine
Designed in the United States, assembled in China with U.S. components Lifetime Warranty
$24.99
This item is only available directly from Colonial Kinfe™
Not available through Pay Pal. To order, call our toll free customer order line at
866-421-6500 or use our Order Form to e-mail or fax an order.
Visa, MasterCard and American Express accepted.