Blackie Collins Model 7002 Quick Flick Spring Assisted Knife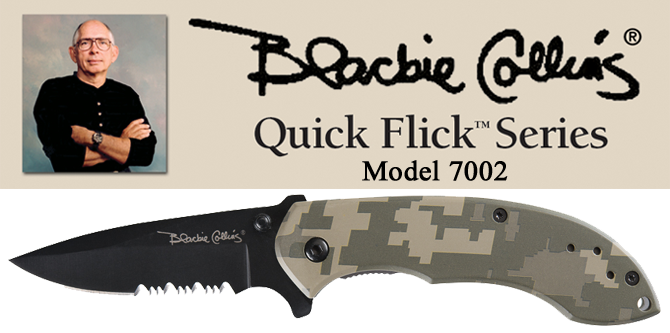 440A blade measuring 3 -1/8 inches from the 4.25 inch handle, and cutting edge of 2-5/8 inches. The idea is "subdued" here, with dark digital, camo-finished smooth aircraft aluminum scales, black screws, black pocket clip and blackened blade. No jimping, but the hollow-ground 7002 offers 1-1/8 inches of edge serrations and 58-60 Rockwell hardness. The guard tab doesn't stand as high above the liners, but it's still perfectly accessible. The handles' edges are well rounded and the contours are very comfortable in the hand. The 3.75 ounce 7002 is also fully user-serviceable if you have a small enough driver bits. The handle has a lanyard hole, and the removable clip comes installed for right-side tip-down carry and can be moved for left-side tip-up carry.
By Denis Prisbrey, field tester for Tactical Knives magazine
Designed in the United States, assembled in China with U.S. components Lifetime Warranty
$24.99
This item is only available directly from Colonial Kinfe™
Not available through Pay Pal. To order, call our toll free customer order line at
866-421-6500 or use our Order Form to e-mail or fax an order.
Visa, MasterCard and American Express accepted.