Colonial Model 7005 Quick Flick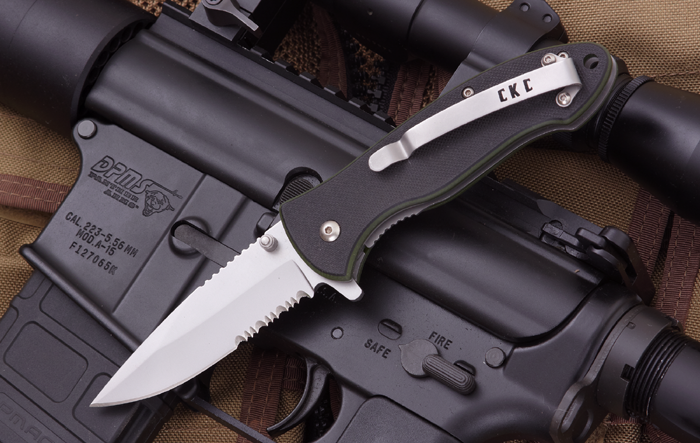 The 7005 is a 4 ounce liner lock with a 3.25 inch blade, from handle to tip. The 7005 uses 440A stainless steel and has a Rockwell hardness of 58-60. This blade has a matte gray finish and is lightly hollow-ground, with 1 1/8 inches of serrations on the 3 1/16 inch cutting edge and an innch of jimping on the spine. Blade-wise, it can be jump-started by either using the conventional ambidetrous thumb stud or by pushing inward with an index finger on the double-dyty guard "tab" where it protrudes from between the steel liners in the handle section. Handle-wise, the 4.5 inch slabs are checkered G10, with an outer black layer and an inner contrasting green layer. Thje 7005 can be totally disassembled for cleaning, if necessary, by removing it's stainless steel screws. It's open construction allows for routine maintenance with pipe cleaners and oil. Scale edges are nicely rounded, as are the full steel liners, no hand scraping. There's a lanyard hole at the rear and the pocket clip can be changed from tip-up left side carry to tip-down right side carry.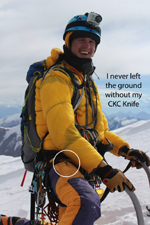 See photos of the 7005 in action with the
Verticle Ice Climbing Enthusiasts (VICE) trip to the Kyrgyzstan mountains
I look forward to providing additional text and more photos as my partners return from abroad. We loved using Colonial Knives during our expedition for preparing food, cutting ropes and cord, and repairing gear. No tool was more essential to our survival than a high-quality knife like the ones made by Colonial. Thanks again for your support. We truly appreciate your sponsorship.
Jeff Longcor VICE Coordinator
By Denis Prisbrey, field tester for Tactical Knives magazine
Lifetime Warranty
$24.99
Specifications

Weight 3 oz.
Handle material: digital pattern G-10
Blade material: 440A Stainless steel, Rockwell hardness 58 60
Blade cutting edge: 2 7/8"
Blade serration cutting edge:1 1/8"
Liner lock
Overall length with blade deployed:7 1/2"
Length closed: 5"
This item is only available directly from Colonial Kinfe™
Not available through Pay Pal. To order, call our toll free customer order line at
866-421-6500 or use our Order Form to e-mail or fax an order.
Visa, MasterCard and American Express accepted.